At one point in time, human resources were all about handing papers filed by employees and managing complaints. The role focused solely on keeping the employees productive to ensure the business gained value from them. But not anymore! The modern HR is a lot more than just handing a few employee requests.
It is about people management. Today, the role of HR professionals has moved to focus on putting people first. Their goal is to be able to create the best employee experiences, keeping in mind the importance of having people who are truly engaged with their work.
So while most CEOs would work on measuring the deployment KPIs while and on adopting a change, here's what they need to know about modern HR.
1. Modern HR focuses on empathy 
The new-age HR looks beyond the workplace to understand the why behind an employee's behaviour. They focus on turning the workplace into a place where people feel supported – not just by their team members, but also the organization as a whole. This would include offering employees resources and policies that benefit them in the time of need and making sure they understand them clearly.
So instead of only performance-based policies, CEOs need to understand that modern HR looks into the psychology of employees. After all, who we all are at home, is who we bring to the office and it impacts our work in many ways.
Simply put, the role of HR professionals now also includes being an employee advocate. Modern HR best practices are also changing to focus on empathy.
2. Modern HR is agile 
No matter what industry your business is in, it is bound to change over time. These changes don't just impact your business policies, but also require your employees to build newer skill sets and adapt to the new industry best practices. According to Gartner HR, organization drag slows this change as 64% of employees waits to be told what to do next during the change.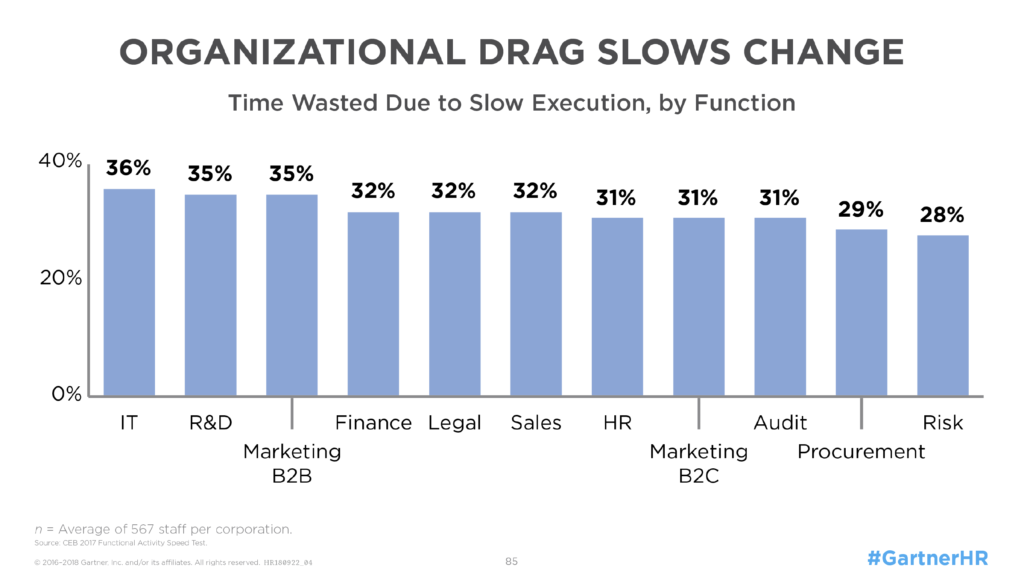 The role of the modern HR is to create an efficient and fast-moving workplace. That's why they now focus on metrics that go beyond the usual deployment KPIs, to look into the employee adoption rate when implementing a change.
This includes identifying which teams will be impacted the most by a change and conducting workshops, panel discussions and one-to-one meetings to make the transition easier. And at the same time, ensuring that employees are enabled to take independent, data-driven decisions when required. It is also one of the important modern HR best practices.
Want to know why agile HR is so important? Read here.
3. Modern HR is data-driven 
Moving beyond maintaining employee records, modern HR is now all about data. Right from performance metrics to employee engagement, it now focuses on recording and tracking data around everything that impacts productivity and progress at a workplace.
Why?
According to a report by Deloitte, 71% of organizations believe that people analytics are as crucial to their organization. The data helps bridge the gap between the leadership and the HR, making it easier to get approvals and implement new initiatives for the betterment of the employee experience. After all, it is what affects your bottom line directly!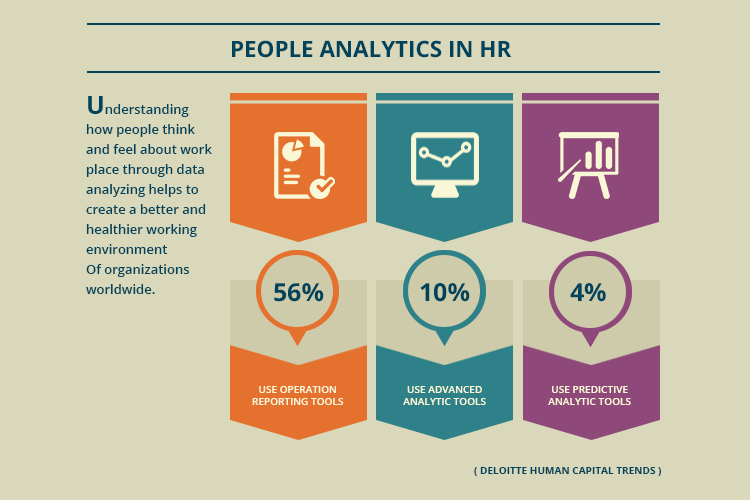 Diving into data here includes conducting employee surveys, mapping the response with their journey, tracking their progress and effectiveness, identifying the roadblocks and then working on understanding it better before suggesting or implementing a new process. The role of the HR professional here is to then turn these people analytics into actionable strategies.
Take, for instance, surveys show that your employee churn rate is higher. In this case, you need to look at where the employee tends to lose interest in their journey with your organization and what can help you hold them back.
An article covered on Inc. brings together expert opinions on where HR is headed and Erik van Vulpen, the Founder of Analytics in HR can be seen quoting, "I think 2019 will be the year in which people analytics becomes even more mainstream."
4. Modern HR puts technology at work 
Even Erwin Van der Vlist, Founder Speakap, can be seen quoting in the same article, "HR will move to people enablement and technology is not the most important thing: it is subordinate to the people."
Which only goes to say that modern HR will now focus on adopting technologies that help employees do better work. The technologies will not just include the usual that are required for operations across different teams. But also those that cover the little day-to-day aspects that can make teams more productive.
Take, for instance, the shift from having to call a face-to-face meeting to discuss the smallest of things in a team to using Slack for the same.
Another example here could be how we have been tracking time all this while. Modern HR is moving from using excel to use smart Slack apps like AttendanceBot. This doesn't just make it 10X faster for them to generate reports, but also makes it easier for the teams to log time.
To put things into perspective, here's another example of modern HR. Instead of spending days on employee onboarding, they are putting apps like Donut to use. You cut out the time required to make introductions during onboarding. This lets HR focus on other aspects of employee satisfaction.
5. Modern HR are just humans with the right resources 
Now CEOs turn to their HR departments seeking employee data. But it is important to understand they need to be equipped with the right resources first.
Modern HR is all about embracing the latest ways of working and optimizing management styles around it. It is also about using technology to work collaboratively. CEOs and decision-makers at organizations need to hence enable HR departments to optimize their existing resources. And also identify those they need to keep teams agile.
Is your organization modern HR ready? 
YES.
No matter what industry your organization is in, modern HR is for everyone. It enables what this generation of employees want from work and expects from organizations. Simply put, it is how you ensure employee satisfaction and succeed.
What's your take on modern HR and its impact on the progress of organizations?