Slack is everyone's favorite work management software and it's no mystery why. With its sleek features and powerful apps, Slack is trusted by new companies that are just starting operations as well as by tech giants like LinkedIn and Uber who are dominating their industry.
By allowing employees and managers to handle their different tasks and needs right within Slack, the smart communication tool has helped companies work smarter, saving them time and effort. The different apps within Slack have also simplified the work of modern HR, allowing them to automate team management, finance handling, and even employees onboarding.
Let's look into the 5 best practices that you can pick up to use Slack to deliver positive onboarding experiences for your new hires and simplify your work as a modern HR.
Top 5 Ways Slack Makes Employee Onboarding Easier
1. Create a channel for #new-hires to seamless onboarding
One of the most common tactics by top organizations that use Slack is to create a Slack channel specifically for onboarding and introducing new hires to the workings of the company. With a specific channel for your new employees, you can make it easier for them to approach you with questions about how you work and even help them transition into your environment with ease.
Set up this channel and use it to communicate with your new employees, explain your processes and get them comfortable. You can even integrate multiple apps that let you poll new hires, send them automated messages, and share files easily.
2. Keep them engaged throughout their onboarding journey with automated questions
When bringing a new employee on board, you must keep them engaged and get them up to speed efficiently. With Donut, you can create and customize your onboarding journey based on the role or location of the new employee.
Set up automated messages within your onboarding, from sharing important details about team hierarchy to recommending lunch spots and explaining the perks available at the office. These interactive messages ensure that your new hire feels welcomed and sets a friendly tone to your work environment, delivering a positive onboarding experience.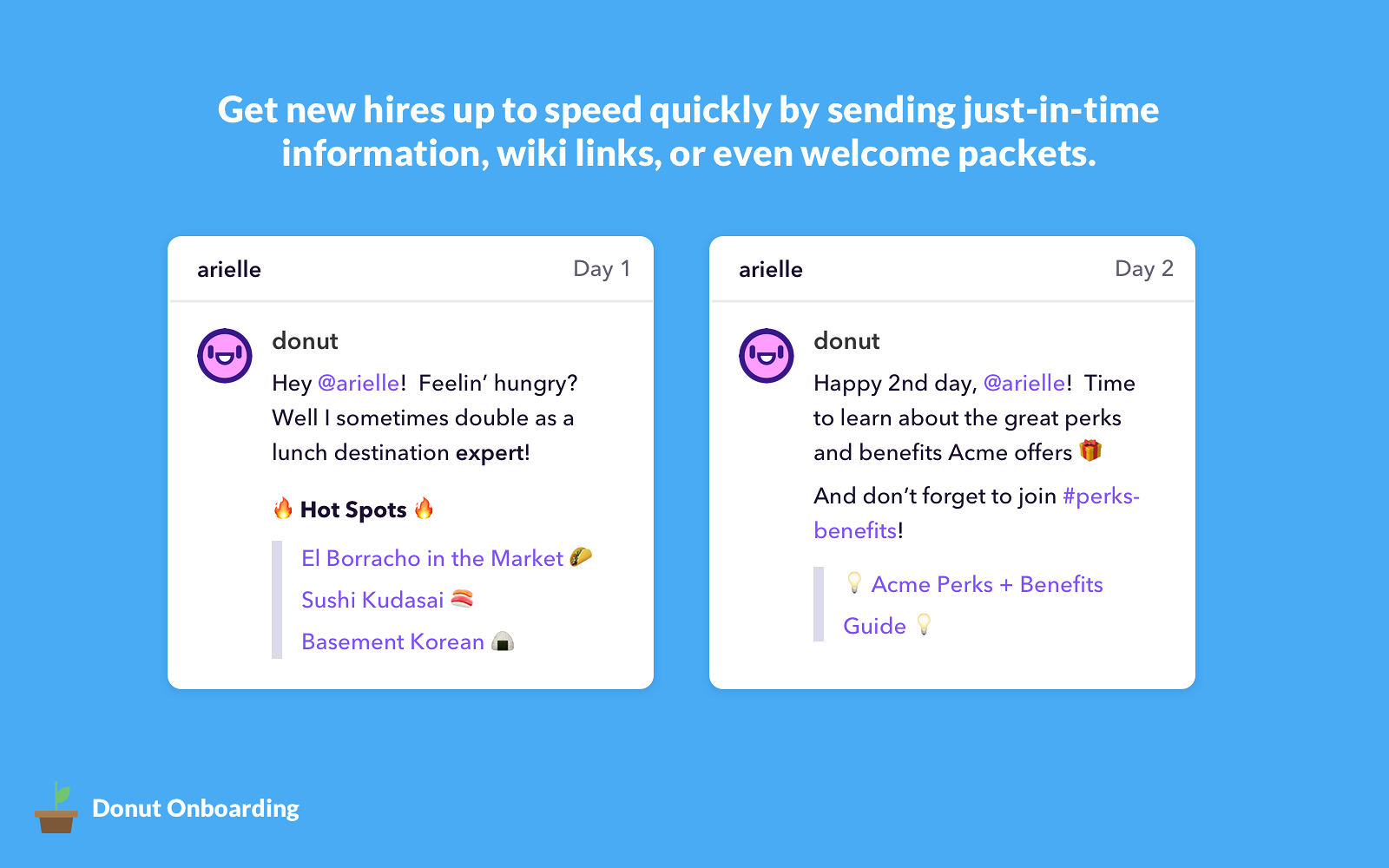 Another feature of Donut that you must use is their automation that pairs your new hires to existing team members in an effort to make your employees connect with each other.
It connects team members from different departments, automatically sets up a chat between them and suggests setting up a coffee break together. This is a great way to build rapport within your team without effort on your part.
At the end of your onboarding period, you can even collect feedback from your employees, understanding what they liked about the experience and what they thought was missing.
Apps like Polly allow you to create polls to collect responses from your employees, segmenting your new employees based on criteria set by you, allowing you to survey them better.
3. Build a helpdesk to let new hires understand your organization better
It's very common for new hires to keep reaching out to the HR or their manager for every small doubt they have. From leave policy to stationery requirements to reimbursement procedures— this information must be passed on but you don't have to keep going through the same questions every time you onboard a new employee. But, it doesn't have to be so taxing!
It's so easy to look for answers to specific issues about a product you're using when it has a comprehensive helpdesk that you can just browse through. Why not make help desks for your office management?
Apps like OfficeAmp allow you to build a wiki for your company, from smaller FAQs like where the stationery is kept to more important questions like how your press release is formatted.
Built for Slack, this app makes it easy to access information about the office, even on the go. New hires don't have to reach out to you for every question they have. Instead, this chat-based bot has all the answers for them.
What's more, if there isn't an answer to a question they have, employees just need to create an issue and the app quickly raises a ticket and notifies the manager. This way, questions don't get lost in the sea of messages that are sent back and forth on a daily basis and they also get indexed on the helpdesk for future requirements.
4. Make file and information management a breeze
No one wants to email documents every time they need to share information. What's more, searching for files you need within your folders or even within Slack is too much hassle. This is especially true when you just join the organization and have documents to share with the HR and need to read up on the processes followed by the different teams.
Slack's in-built features are a time-saver. Many organizations pin files and messages shared within the channel so that employees can access it without having to search for it. Use the "pin" feature on your #new-hires channel to make important documents easy to access. You can also integrate your favorite apps, like Dropbox and Google Drive to make file sharing much simpler.
Your employee onboarding process also involves scheduling a lot of meetings for the new hire within the first few weeks to help them catch up with the current work, figure out roadmaps, and understand the organization in a deeper way.
Integrate Google Calendar within Slack to ensure your employees stay on top of the different meetings they have to attend.
5. Set up an attendance system in place to add structure from the get-go
One of the most important parts of employee onboarding is to ensure you set expectations and lay down the structure of your employee's workday. One aspect of employee management that many companies deprioritize is attendance management.
Some companies set up a manual check-in system like dropping an email or message that usually has many errors due to the large influx of employees that one or two HR managers have to keep track of. What's more, companies that manage shift workers set up manually tracked spreadsheets that provide minimal functionalities, making shift reassignment a tedious task.
Introduce your new hires to a modern attendance management system.
With AttendanceBot, your employees just need to drop a message to the bot on their Slack and their attendance is recorded automatically. The smart bot allows you to track the time put in by your employees and check the number of leaves your employees take on a clean and powerful attendance dashboard, all without your daily effort.
If you're managing with shift workers, AttendanceBot has a shift management dashboard where you can schedule, reassign and manage shift hours.
Introduce this smart time management bot to your new employees and show them how effortless it is to manage themselves at your company.
As a modern HR, you won't have to spend time following up with them about their daily attendance and instead use that time on more important tasks like analyzing performances and responses.
We hope these top 5 practices have helped you set up a positive onboarding experience for your new hires.
Slack's apps make your work smarter as an HR and when it comes to employee onboarding, using the right apps can make welcoming new hires a delight, leaving a great impression from day one.