Your co-worker just hit their work anniversary. How do you congratulate them? If you prefer words to wish them, choose that. However, if you're looking for something hilarious, in the form of a work anniversary meme, you've come to the right place. A work anniversary means time to celebrate, laugh, and have fun. This article does it all.
This article has several work anniversary memes and gifs for you to choose from. So let's get the fun started.

Work Anniversary Memes
The Minions
Don't we all love the minions? This 1 year work anniversary meme is a super simple yet cute meme to wish your co-worker their first anniversary.
Jim Carrey Work Anniversary Meme
This  Jim Carrey meme is hilarious. From his expressions to the smile, this meme is a great way of letting your co-worker know how excited you are for their work anniversary!
Get Back to Work Anniversary Meme
Work anniversary means celebrations and party but it also means a lot more work for the coming years. This meme keeps it real yet in a hilarious way.
2 Year Work Anniversary Meme
A 2 year work anniversary meme? We've got you covered! This meme is a scrumdiddlyumptious way to tell your co-worker they're no longer freshies and you love their presence. Just how Willy Wonka would've said it if you were the one to find a golden ticket to his chocolate factory.
The Oprah Meme
If you've watched the Oprah show, you'd know she loves giving away prizes. This meme is a hilarious way of letting your co-worker know they'd be getting an extra day of work as a giveaway in Oprah-style enthusiasm.
The Dog Work Anniversary Meme
Who doesn't love dogs? Dogs for one, take our stress away with their presence and keep those happy hormones running in our brains. This dog work anniversary meme is the cutest way to wish your co-worker a happy work anniversary. Especially if they love dogs!
The Holy Cow Meme
Of course, a holy cow would be dressed as a nun. Hilarious isn't it? This cow meme is a literal representation of the holy cow phrase and is a super playful way to wish your co-worker a happy anniversary! So moo-ve this meme up on your anniversary meme list.
4 Year Work Anniversary Meme
4 years at work? Gosh!  This super nerdy but playful work anniversary meme celebrates your co-working friend's 4 years at work.
Happy 1 Year!
This all-feels meme deserves a special place on your work anniversary meme list. Let your co-worker know they've finally crossed a year at work with this meme. Now that they'll be spending another year at work, it'll all be just deja vu because of the monotony.
Homer Shouting Wohoo Meme
Does your co-worker enjoy the sarcastic and funny Homer Simpson? Nothing can be better than a classic Homer-style meme exclaiming a happy work anniversary for your colleague then!
Work Anniversary, Parks and Rec Way
If you've seen Parks and Recreation, you would know Ron Swanson. Although Ron looks like a sturdy guy, Parks and Recreation fans know what a funny guy he is. So if you like, keep it professional and congratulate your colleague on their work anniversary with this meme.
Brace Yourself
Know a Game of Thrones fan who's going to hit their work anniversary?  This Ned Stark meme is perfect for them where instead of winter, it's the work anniversary that's coming. You can even post this meme for everyone to guess who's anniversary it is and it could be a little game.
Not Sure Meme
This work anniversary meme is perfect for those co-workers who're your friends. The not so sure expression on this guy in the meme will make your friend laugh a little too hard.
Margot Robbie or Harley Quinn?
This is the 1o year work anniversary meme we all can relate to. We dress our best when we newly join a job and over the years we become too comfortable to care about how we look. This funny meme is especially for those co-workers who've spent a decade working at the office.
20 Year Work Anniversary Meme
So your coworker has spent 20 years at the same organization. What would be your reaction? Whether it's 15 year work anniversary or 20, you'd be surprised and shocked and this meme literally speaks volumes in that case. Use this meme to wish them a happy work anniversary and appreciate their loyalty to their work.
Michael Scott from The Office
The best memes are those which are easy to relate to. In our case, employees will relate to something that happens in the office and everything that gets out of it. Michael Scott from the office has given the world many memes and this particular one is the best for a work anniversary.
Bossy Anniversary Meme
This bossy yet funny meme from the Simpsons will make your workaholic co-worker laugh. One way to wish your co-worker a happy work anniversary is to be real about what the party is going to be like. Of course, an anniversary celebration at work will be done at their desk and the only thing they'll have to do is work.
Baby Yoda Meme
Ever since the Star Wars franchise was released it has gathered massive fans. Baby Yoda or Grogu, is a character loved by millions of fans around the world. This tiny Yoda meme is the cutest way to wish your co-worker a happy work anniversary. May the force be with you!
5 Year Work Anniversary Meme
Your colleague has worked for 5 whole years at the organizations. This either means they love their job or that things are getting pretty serious. Wish them 5 years of work with this funny meme.
Ryan Gosling Meme
A meme with Ryan Gosling's face is a big yes! Have a female co-working with you who just hit her work anniversary? Nothing can be better than Ryan Gosling wishing her a happy work anniversary.
I Don't Always
This cunny meme wishes your colleague a happy anniversary without even saying it. This one is sure to bring out a smile on their face!
6 Year Anniversary Meme
If your colleague has just spent 6 years at work, that calls for celebration. But that doesn't mean the work will stop after that, right? This ridiculous grumpy cat meme is the finest representation of that.

Squirrel Celebrates Your 15 Years at Work
Is your co-worker happy about completing 15 years at work? Well, this cute squirrel sure is. Make your colleague smile with this cute 15 year work anniversary meme.
Work Anniversary Gifs
Late Night with Seth Meyers Gif
We've all heard about blowing candles on the cake. But has someone ever done it with a fire extinguisher? Seth Meyers has! The best thing about gifs is they show real expressions. Want to celebrate your colleague's work anniversary? Send them this gif.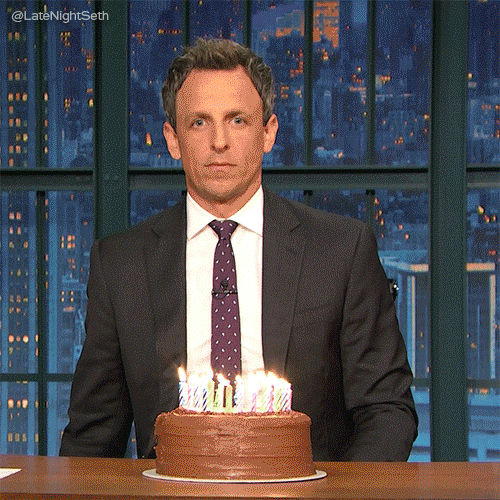 Friends Wishing You a Happy Anniversary
Nothing screams an exciting happy anniversary more than Phoebe and Rachel in this gif. Everyone loves a good Friends reference and this particular gif is one sure way to make your co-worker smile on their work anniversary.
The Wolf of Wall Street Glory
From what we've seen, this Wolf of Wall Street scene is eternal. So raise a glass and celebrate your co-worker's work anniversary with this gif.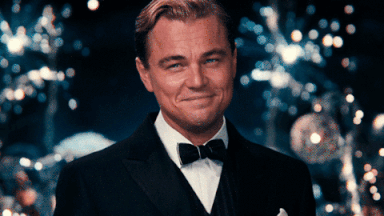 Daily Grind
So your colleague happens to spend another year at work. That means they should be ready for the more daily grind that's coming for them. This gif from SpongeBob Squarepants depicts the situation so apt. After all, laughter is the best therapy for the pain of this sort, right?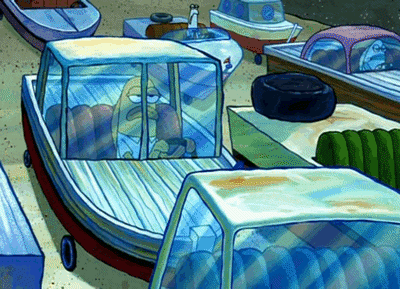 The David Rose Style
David from Schitt's Creek is an absolute star. He's always seen hyping other people up for what good they've done and he never forgets to tell how proud he is of Alexis every now and then. Personally, this has to be my favorite hype gif. Wish your colleague a happy anniversary and tell them you're happy for them using this. Additionally, you can look for some great gifs on giphy.
Ready to Make your Co-Workers Happy with These Memes?
Use these memes and gifs to wish your colleagues on their work anniversaries. One good that'll come out of this is that they will remember your way of wishing for a very long time. So go ahead, send these memes around and make co-workers happy!