It's a fast-moving market spinning on the axis of an even faster-moving world. Thus, more often than not, we see people switching from one job to the other, sometimes for a better environment, many times for a better pay package, and numerous times for other reasons. However, whatever may be the reason behind the switch, it stems from employee satisfaction and motivation. While many blame the fickleness of the young for the switches, they forget that the millennials and Gen Z are more demanding than prior generations. They will seek a place where they can balance peace of mind and healthy compensation. Celebrating important milestones like work anniversary is a way to show them that it is possible to make a long-term career at one company.
Yes, it is possible to retain employees by enhancing their organizational experience and by keeping them motivated. Celebrating work anniversary happens to be a crucial part in serving the purpose. In this comprehensive guide, we will talk about the following:
1 year work anniversary or a 20 year work anniversary, without further ado, let's delve into the details of work anniversaries.
What is a work anniversary?
A work anniversary marks the completion of one or more years of employment for an employee.
This is perhaps the most important part. A work anniversary is a perfect way to display employee recognition and let the employee know that you acknowledge the efforts put in for the betterment of work and organization as a whole. A work anniversary is an essential landmark in the professional life of an employee and in the life of an organization, as it marks sync between the two. It is a date that is symbolic of an employee's continuous dedication towards the organization and how the latter chooses to honour it.
Why should you celebrate an employee anniversary at work?
A happy work anniversary is important in many ways. It is the perfect way to show the employee that you care, and even if it is not possible to go over each milestone and achievement in person, you do acknowledge the efforts of the employee. The work anniversary marks the date when the employee's connection with the organization is celebrated, and it should pave the path for more work anniversaries in the future.
A work anniversary is extremely important. Here are a few reasons why:
1. Employee acknowledgement
Celebrating a work anniversary leads to an acknowledgement of employee's work and dedication towards the organization. This serves as a huge morale booster. It is a recognition of a year or many year's worth of dedicated service. Read more about acknowledgement and employee motivation here.
2. Organizational etiquette
A congratulations on a work anniversary by the organization to the employee goes a long way. It is a reflection of the organization's own ethos and etiquette and shows how it goes out of its way to acknowledge its employees when the moment calls for it.
3. Sincere appreciation
Celebrating a work anniversary is a good way of expressing sincere appreciation for the employee's efforts over the said period of time. Whether it is a 1 year work anniversary, a 5 year work anniversary, or even a 20 year work anniversary, celebration of it marks an acknowledgement and appreciation of the employee's dedication towards the organization.
4. Employee inspiration
A work anniversary serves to inspire employees, not only the ones who are being acknowledged and celebrated but others as well who see it as a motivational affair.
5. Employee engagement
Celebrating a work anniversary also serves as a good employee engagement activity, wherein not only the employee who is the centre of the celebration, but the entire unit or organization comes together to plan a celebration and thereby execute it. This creates a bond within the teams which is good for the organization as a whole. Read more about it here.
6. Strengthens bond
Celebrating a work anniversary strengthens the bond between an organization and its employees. The older the relation, the more it feels like family.
Boomerang employees
Work anniversaries are important because they cultivate a healthier work environment. This means that the influx of boomerang employees is not considered a professional taboo. Boomerang employees refers to those members of the workforce who leave the organization at one point of time but are willing to come back at another point of time, if the correct opportunity presents itself. As per a Kronos and Workplace Trends study more than 76 per cent of managers expressed that they will be more than willing to hire their previous recruits, should the latter wish to come back.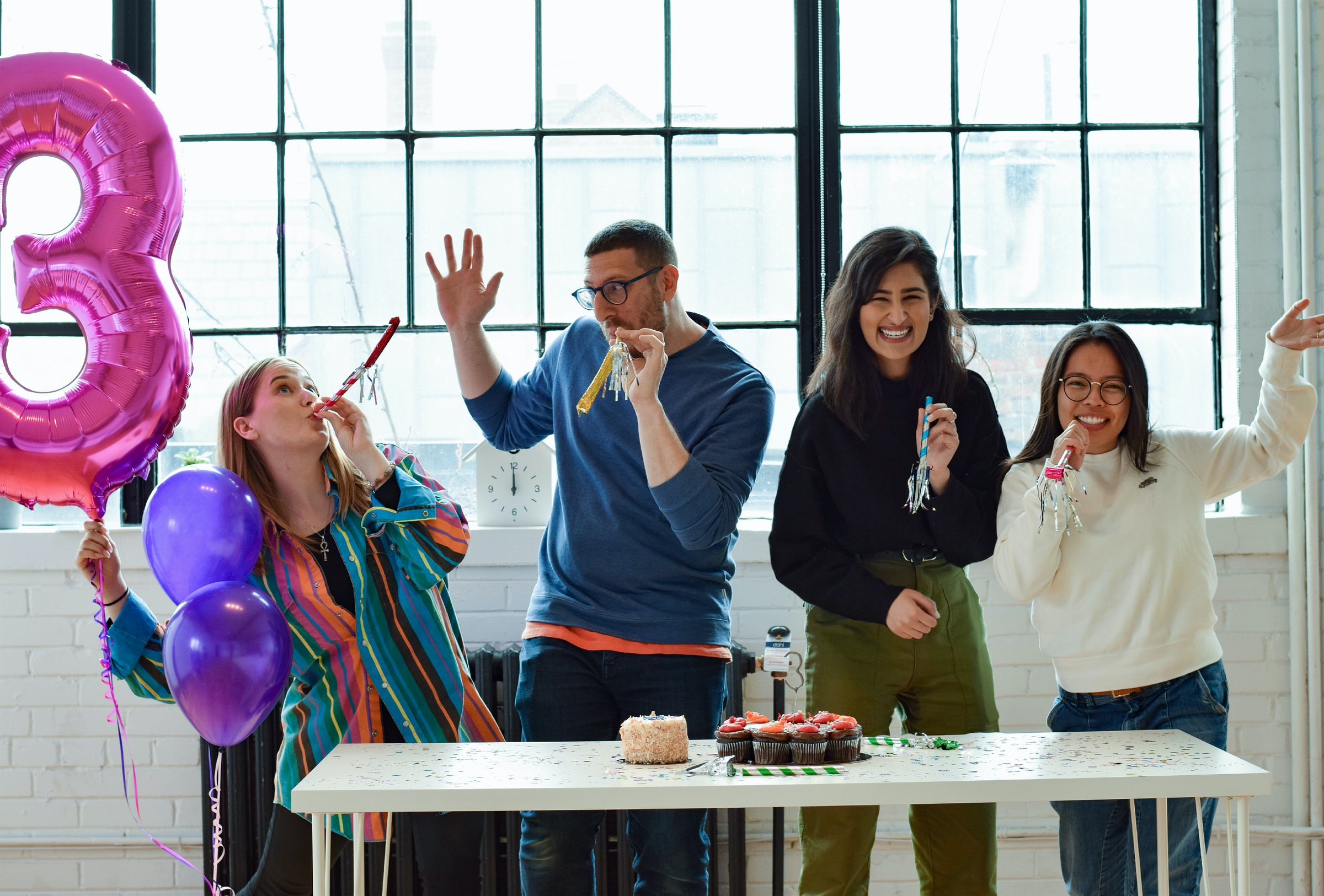 If the workplace presents a good and healthy environment, the boomerang employees will return. Work anniversary is one way of looking at the positive effects of it.
Wishing 'happy work anniversary' is an important and imperative step towards cultivating an employee-organization relationship that goes a long way.
When should you celebrate a work anniversary?
Usually, work anniversary celebrations are yearly. Just like employee appraisals take care of the monetary appreciation, work anniversary messages or employee anniversary gifts take care of the emotional aspect of it. It is a token of gratitude from the organization, and just like any other act of gratitude, it should be done often. Ideally celebrating it yearly or at a minimum on bigger milestones like a 5 year anniversary.
Following are some of the important milestone years that can be celebrated as work anniversaries:
1. 1 year work anniversary
This is a special one, given it marks the start of a special relationship between the organization and the employee. This one has to be really unique. A first work anniversary should be celebrated in a way that it becomes first of many more to come, not as a pressure on the employee, but rather as an appreciation and acknowledgement of his or her efforts and as a promise.
2. 5 year work anniversary
Just like a 1 year work anniversary, a 5 year work anniversary too is quite special. In today's fast-moving scenario, if an employee has stood by your organization, it's a huge celebratory moment for both parties. It should be celebrated with fanfare and a little pomp and show. The occasion calls for it.
3. 10 year work anniversary
A 10 year work anniversary is another thumping milestone to celebrate. It has to be acknowledged that an employee has spent a decade, a huge chunk of professional life, in the organization.
Here's an example:
4. 20 year work anniversary
This work anniversary or a 25 year work anniversary usually turns out to be the one for veterans. It may also be the last one. Thus, the celebrations should be befitting.
Organizations have to make sure that the stature and status of an employee changes with time. So should the celebrations. One should know that the work anniversary celebrations of a fresher are considerably different from that of veteran managerial personnel. The work anniversaries should grow in direct proportion to the professional growth of the employee. The mark of acknowledgement varies with time and so should the work anniversary celebrations.
Different ways to express anniversary wishes
A word can make or break a relationship; so use your words wisely. Work anniversary congratulatory wishes work similarly. Those need not only be worded well but also be complemented with the perfect celebrations and accompanied by just perfect employee anniversary gifts.
1. Handwritten notes
Honestly, the 21st-century world operates on an autopilot mode. In this mechanized scenario, a personalized and handwritten note serves as a perfect bout of nostalgia. It also serves as a morale booster to the employee who gets a direct and personal acknowledgement of the efforts put in towards the organization. For best ways to pen a handwritten note or handwritten work anniversary messages, refer to the section below.
2. Public recognition
While some employees may appreciate a personal and more private form of recognition on the event of their work anniversary, others may prefer a more open announcement and acknowledgement of the same. Utilize your social media network to spread the word and celebrate the employee's legacy publicly. Alternatively, creative representation of an offline event can also go on the pages.
3. Transfer of decision-making power
For those employees who are always seeking and learning, nothing is a better way of appreciation than putting them in decision-making and leadership roles where they expand their arena. An upping of designation and expanding of roles to include more and better work avenues are a perfect way to celebrate a work anniversary.
4. Time off the treadmill of work
Another way of celebrating a work anniversary is by giving the employee well-deserved time-off. This time-off can be complemented by employee anniversary gifts such as vouchers or sponsored vacation tickets as well. Nothing works better than some cooling off period and coming back to work re-energized.
5. Paid sabbaticals
Do you know that nearly 25% of companies mentioned in the 2012 list of Fortune's 100 Best Companies to Work With, offered paid sabbaticals? This one is another great way of celebrating work anniversaries and giving employees a due which goes beyond their workspace, thus sealing a loyal bond with the organization. Paid sabbaticals are not only a good way of rewarding existing employees, but also a way of inspiring the growing employees who are encouraged to pitch in more, in a better way, if possible.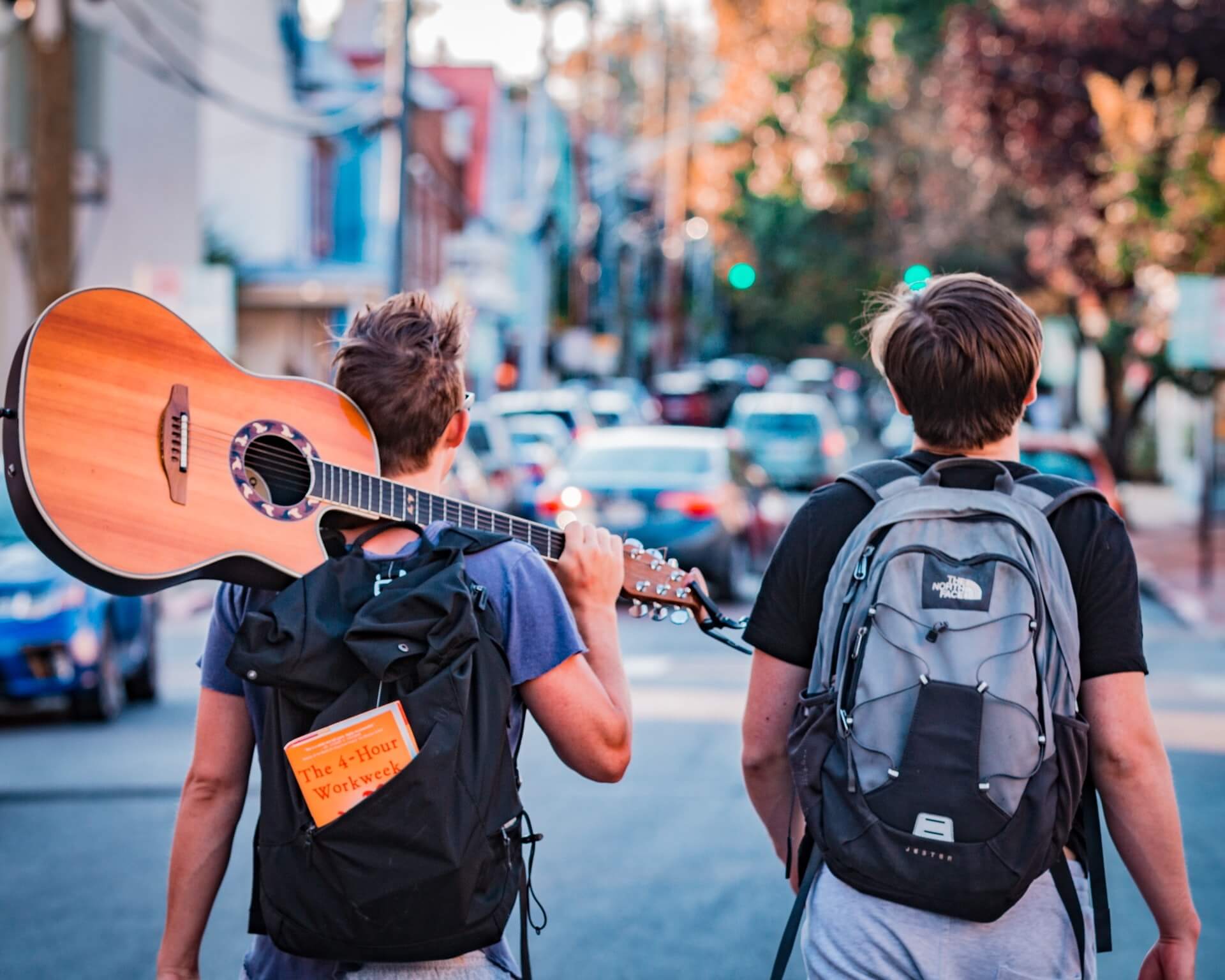 6. Charity to the organization of choice
With social media being a game-changing tool, more and more people are becoming aware of their social responsibilities. Find out the charitable cause of interest of the employee in question and make sure work anniversary preparations are in accordance. It can be a donation to the charity or a celebration at the place itself. It will be quite a memorable event for the employee and will also serve as a corporate social responsibility booster for the organization.
7. Customized SWAG
Create customized trophies and brand merchandise for the employee whose work anniversary is being celebrated. You can even get the customized merchandise of the said employee's favourite brand and curate it to celebrate their anniversary at work. These can be normal, everyday things such as t-shirts, stationary, mugs, etc.
8. Journey videos
Your organization should be like a family with everyday moments of happiness, celebrations, sadness, and more. Record the small achievements and daily growth, and then when the time of work anniversary comes, surprise the employee with a video that covers the entire professional journey of the person in that organization. Sometimes, visuals serve a better purpose than words. This will definitely be a celebration that will strike a deep chord within the employee.
9. Meals out
A team lunch or dinner with public acknowledgement of the employee's efforts in uplifting the team and taking the organization forward is also a good way of celebrating a work anniversary. This works well for fresher anniversary or 1 year work anniversary, mostly in small-scale businesses or start-ups with a close-knit work environment.
10. Paid courses and workshops
Another way of celebrating an employee's work anniversary is by providing him or her free access to paid courses and workshops. However, this will work better if the organizations analyse as to who are the employees who are ambitious enough to consider refining their skills as a good employee anniversary gift. This mostly works in the case of freshers celebrating their 1 year work anniversary. It may also work for those celebrating their 5 year work anniversary, in the form of bigger and more advanced courses.
11. Flash mobs of celebration
A little cliche but never a fail; flash mobs work most of the times. Imagine the delight of the employee when the whole team or organization, depending upon the scale of celebrations, decides to take the work anniversary up by several notches.
12. Work desk improvements
Improving the work desk is another subtle way of celebrating someone's work anniversary. A few accessories here and there, with decorations symbolizing the employee's long-term relationship and anniversary with the organization, is a good way to mark the occasion.
13. Upping the stock options
This is an effective way of marking a work anniversary in the case of senior management or directors. Upping the stock options or shareholding is a major step which is mostly held by the management personnel who are also stakeholders in the organization. Increasing that share is a good way to acknowledge their long-term relationship with the organization.
14. Dinner with the CEO and the leadership team
For a fresher employee who is slowly rising through the ranks in a big organization, nothing is more delightful than spending work anniversary in the company of the person who heads it, the CEO. The celebrations in the presence of the leadership further make the occasion an enriching learning experience.
15. Family celebrations
Celebrations that involve the family of the employee whose work anniversary is being celebrated, never get old. No matter the stature of the employee, making their family a part of their work-life milestone creates a beautiful bond between the organization and the employee.
Work anniversary is a special occasion. Needless to say, even the celebrations should be befitting enough to mark the occasion.
How to write happy work anniversary messages?
Personalized messages are always special. It states the fact that the organization acknowledges the employee and is willing to go the extra mile to appreciate their contribution. However, most corporate employees cut a sorry figure when it comes to writing a heartwarming message, even if it is just two lines. So, here are a few pointers to keep in mind when you are penning down a 'happy work anniversary message:'
Choose your method; email or SMS or an informal chat?
Choose the person who will get the message and decide your mode of messaging. The attitude of the person plays a part here. You should know how your message would be perceived.
Again, depending upon the person, choose how to address him or her. Depending upon the nature of your organization, choose an appropriate salutation.
Choose the correct language. You can start off the message with a simple 'congratulations' and move on to using kind words to enunciate the employee's contribution towards the workspace. Make sure you mention some specific achievements of the employee.
Conclude the note or message by inserting yet another congratulatory message, and send it off.
Work anniversary messages or work anniversary quotes needn't be lengthy. You should only be sure of how to write it and whom you are addressing it to, and you should be fine.
More work anniversary templates and ideas
Now that we know the basics behind writing work anniversary messages, let's get down to listing some examples. Always remember to know our addressee before penning the message. A work anniversary message for a boss differs considerably from a work anniversary message for a colleague or an employee.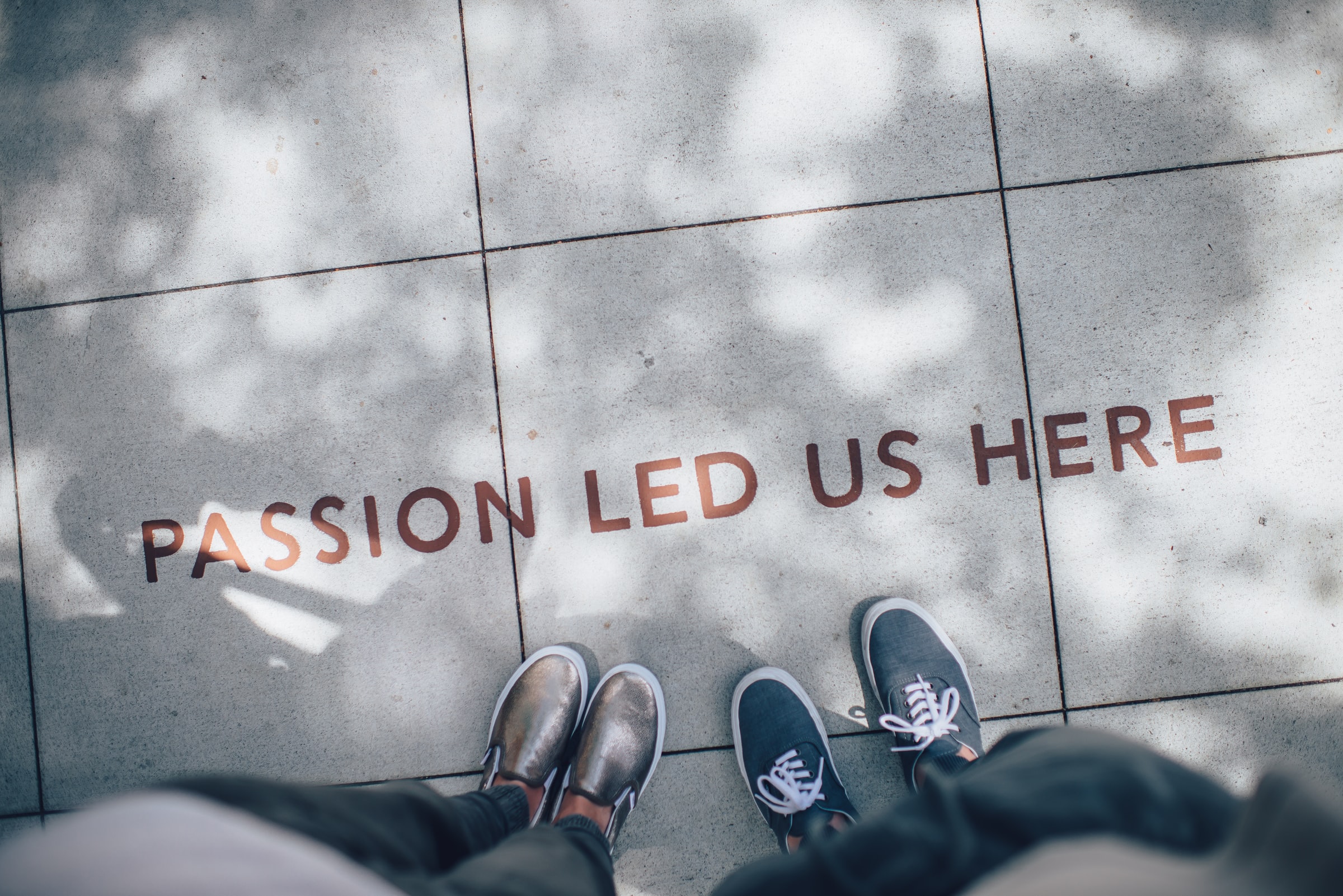 Here are a few work anniversary templates and card message examples that should help you out:
1. Work anniversary wishes to boss
Work anniversary message template 1:
Congratulations on your work anniversary! You have been our guiding star all this while, with a patience to be envious for and a nature to be glad for. We admire you and love you, boss.
Work anniversary message template 2:
Exceptional leadership is your second name. We are lucky to be a part of your tribe. Keep the light shining, boss.
Work anniversary message template 3:
You saw possibilities in us when we couldn't. Thank you for being the mentor we didn't know we deserved. Congratulations, may you always reach the heights you wished for.
2. Milestone anniversary wishes to employee
Work anniversary message template 1:
Happy workiversary! It's your year 1 with us and we can't be prouder to have you with us. Keep shining and wish you all the luck for many more work anniversaries to come.
Work anniversary message template 2:
Congratulations on successfully bearing with us for x years! We can't be luckier to have you. You have brought on a novelty to the team that we didn't deem possible. Keep shining!
Work anniversary message template 3:
Here are some heartfelt wishes for the person who makes coming to work so special. Happy workiversary. Raising a cheer to many more cracked deals and storming ideas.
3. Work anniversary wishes to colleagues
Work anniversary message template 1:
You light up the dreariest of rooms with your humour. Thanks for being the colleague who can conjure a burst of laughter where there is none. Congratulations!
Work anniversary message template 2:
With someone like you working by my side, Monday blues are a thing of the past. Happy workiversary, mate! Here's a cheer for many more to come.
Work anniversary message template 3:
We have borne each other through the thicks and thins of this place. May our tribe grow even more. Happy workiversary and congratulations!
Keep the tone twisting as per the person you are addressing, and you should be fine.
Should you be celebrating milestone anniversaries at work?
The answer is, yes. It is a perfect way to seal the employee's solidarity, at the same time engaging the employees towards their own prospective future. It is an achievement for both employer and employee and should be celebrated with much zeal, to keep the employees motivated and engaged, till the next work anniversary comes along. Do what your budget allows. Remember, a small step goes a long way.
Give your employees reasons to stay with you, and celebrate the occasion when it happens.
Recently celebrated a milestone in your team? We'd love to know what you did. Tweet to us @HarmonizeHQ today!